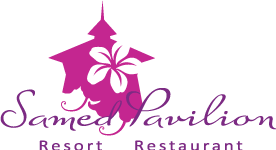 "Samed Pavilion is located in Ao Phai, Samed island, Rayong province. It's in a class of luxury 4 star category which has gained popularity from local and oversea tourists alike since its opening in 2011"
With a mixture of Thai and Balinese architectures, under the concept of living in paradise. The hotel is nestled amidst the lush-green plantations and big trees, giving a warm and secure feeling of a second home away from home. It's truly suitable for a family break or a couple on their honeymoon, or even as friends get together rendezvous.

Located on Ao Phai beach, which is one of the most lively beaches on the Samed island, it's surrounded by lush-green plantations and mountains with clean, turquois sea water and white, sandy beaches. A real heaven for swimmers and sunbather tourists alike. Seafood restaurants and bars are both within easy walking distances.

Lie down and relax in one of our guest's room. All our bedrooms are designed with individual color theme that will make you feel totally at home, relaxed and unwind. With the state of art facilities in the rooms and natural surroundings outside, heaven on earth is not too fanciful to call this place. Samed Pavilion Resort & Restaurant has 6 buildings which are conceptualized by flower names such as; Water Lily, Bird Paradise, Chaba, Orchid, Murraya, Roses, Cattleya and Jasmine.

The resort also offers two outdoor swimming pools, one for kid and one for adult with Jacuzzi, meeting facilities for 60-80 people, laundry service and Tour Desk, a perfect place to get away from the daily hustling and bustling of the city life.
Accommodation
Every guest room has a unique elegant design, equipped with individual air conditioning control, hair dryer, hot and cold shower, flat screen cable television, toiletries, telephone, in-room electronic safety box, mini bar, complementary bottled drinking water, coffee, tea and free Wi-Fi access, to make each guests' stay more comfortable and pleasant.
In addition to these exceptional amenities, Samed Pavilion Resort & Restaurant is pleased to offer 80 guest room and suite accommodations in a variety of styles and décor. All guest rooms are furnished with contemporary furnishings, with a selection of guest rooms and suite rooms feature modern amenities and spacious bathrooms. All with relaxing ambiance.